Believe it.
Trinity Tigers will rise to any challenge.
In 2020, we took a big chance by setting a goal of 3,100 gifts over 1,869 minutes during a year that has tested us all. You blew past that hours in advance, and then you shattered the next goal of 3,410 gifts. 
This is our community: it's one of innovation, tenacity, and ambition. And this community, once again, stands united in support of this home we've been building, brick by brick, family by family, generation by generation. When you give to Trinity, you're not giving away anything. Instead, you're joining something bigger than yourself - a growing, evolving, potent force for good. 
You can already see the good you're doing. Right now, your gifts have started helping students who depend on unforgettable, life-altering opportunities both on and off our campus.
This Challenge is over, but new ones await. There's always time to join our community of support by visiting the Trinity giving page. 
This is unbelievable.
We asked you to support students, and you went above and beyond our wildest expectations.
The 1869 Challenge set an initial goal of 3,100 gifts. You blew past that 5 hours in advance, and now you're closing in on an even higher total.
Don Kurtti '80 will give Trinity an additional $4,000 if we can reach 310 more gifts!
Right now, your support is making a crucial difference for students. You're strengthening a culture of excellence and achievement, access and inclusion, and health and wellness at Trinity.
But we all know that in 2020, you can never be too prepared for the future. As Tigers, we're always looking for a new challenge, but we also need to be ready for the next challenge that finds us.
Now is no time for complacency. Now is our time to keep pushing forward. Challenge yourself, your friends, your family to keep supporting students during a pivotal moment in their lives.
What is the 1869 Challenge?
For years, the annual 1869 Challenge has been your chance to support students. In 2020, taking this challenge means making a difference during one of the most pivotal moments in our students' lives to date.
For 1,869 minutes, alumni, families, faculty, staff, students, and friends have a chance to support any area of the University they choose. Your gift—for scholarships, sorority and fraternity life, music, athletics, or anything in between—makes a crucial difference for students through supporting excellence and achievement, access and inclusion, and health and wellness on and off-campus. 
Year over year, your support has surged past the previous year's challenge. Every gift counts, regardless of the amount. Like generations before us, we are now given an opportunity to build on this tradition of supporting students.
And those aren't the only stakes for this Challenge! From student organizations and Greek Council to athletics to academics and scholarships, there are many matching challenges to keep you motivated throughout the entire 1869 event.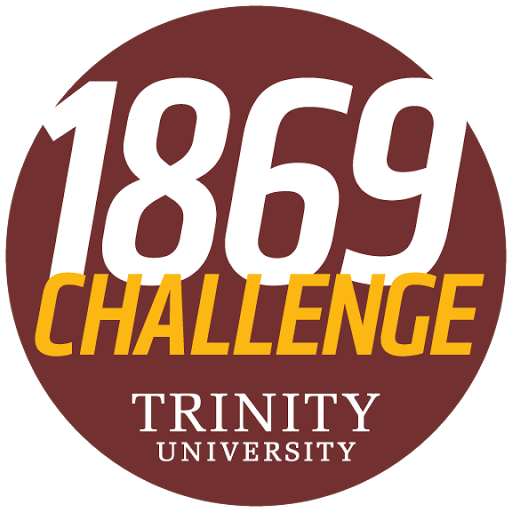 The 1869 Challenge begins on September 16, at 5 p.m. CDT and ends at 11:59 CDT on September 17.
This is our challenge: to protect and expand access to Trinity for our students. We have just 1,869 minutes to make our mark: this is our time.